No matter how old or new your gunite shell may be, if your experiencing water loss, cracking, peeling or separation, we can help.

Our experience and expertise in pool repair/remodeling will transform your old pool into new.

We only use the highest grade of products to perform the necessary repairs  and ensure a proper substrate for a new interior finish.

Additionally, we can repair or remove and replace your decking giving you a completely new look for your backyard entertainment.

Give us a call to see what we can do to give you back your pool.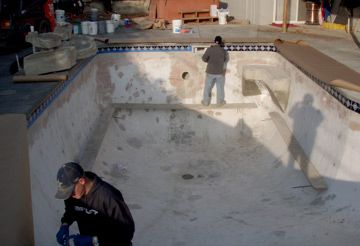 FINISHING THE SHELL REPAIR & PREP FOR THE NEW INTERIOR COATING


NEW TILE - NEW FINISH - NEW LOOK!